Meadow areas
Many residents may be aware of high profile national and local campaigns such as the Blue Campaign, No Mow May and the Community Road Verges. These campaigns focus on leaving areas of grass to grow long, therefore encouraging native wildflower meadows to establish, improving biodiversity and attracting bees, butterflies, moths and other pollinators.
Over the past few years, Horsham District Council have been trialling this principle on a small scale in selected parks and open spaces. Instead of cutting the grass regularly, the grass has been left to grow throughout the summer. This is then cut and collected in late August with the arisings (grass clippings) being removed and composted.
By cutting the grass less frequently, the soil becomes less fertile, and this enables the wildflowers to out-compete the grass, grow and set seed. After a number of years, the wildflowers become well established and look more abundant.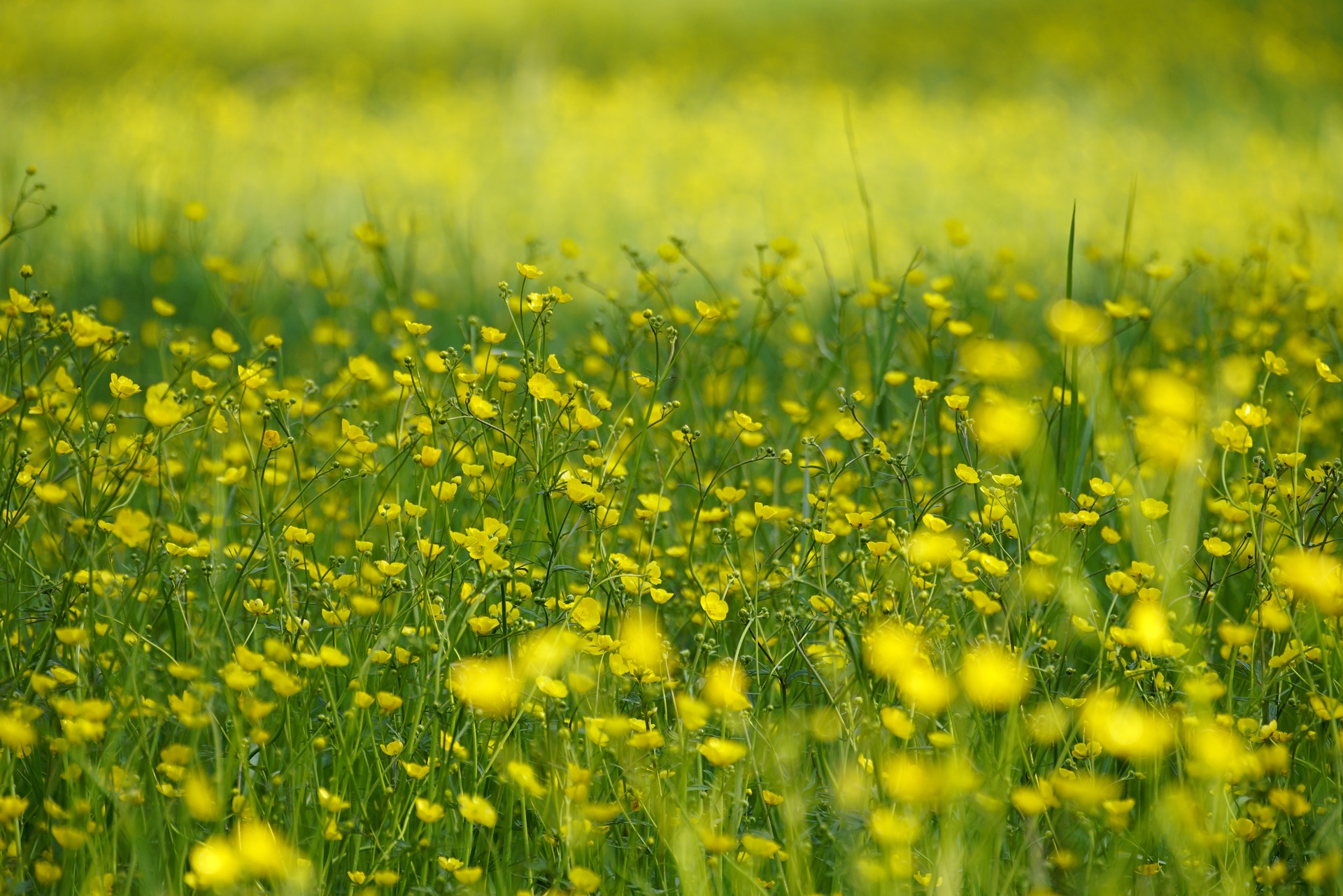 The benefits of meadow grass areas
There are many benefits including;
Plants and fungi that are native to the UK will begin to re-establish themselves, bringing with them a wonderful variety of invertebrates, birds, amphibians, reptiles and mammals
It is good for the human senses, bringing different colours, scents and wildlife in a space that was previously just a monoculture of grass
It helps to improve the biodiversity of the District as a whole
It reduces the carbon impact of our work as a council
Trial areas
Below is more information on the sites that have trial areas of meadow grass.
Only selected areas at each of the sites are being used and we will continue to mow pathways and retain short amenity grass for other uses, be that walking, sport, play, picnicking or simply having somewhere to relax.
On the maps below the meadow areas are displayed in blue and the path network displayed in yellow.
Horsham Park, Horsham
This area was chosen as wildflower plants started to become more evident in this part of the park.

Spanning a section of 4000m2, the yellow areas show the paths that are cut in enabling visitors to walk from one end of the park to the other.

This is the third summer the area will remain untouched. This section will be cut again in late August / early September.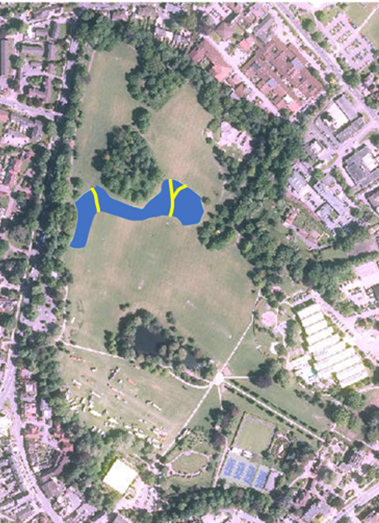 Billingshurst Bypass Path (North)
The site was chosen as they were good indicators of rich biodiversity indicators such as wasps' spiders.
The site, managed in conjunction with the Billi Green community Group, is cut and collected once a year in late summer.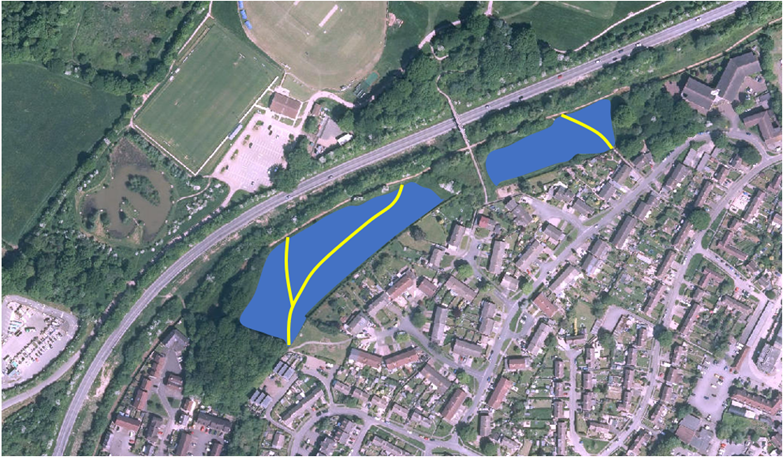 Tanbridge Park, Horsham
The site at Tanbridge Park was chosen as woodland marginal plants started to take over the area. Local residents requested that this area to be kept untouched for spring.
This area will be cut at the end of May.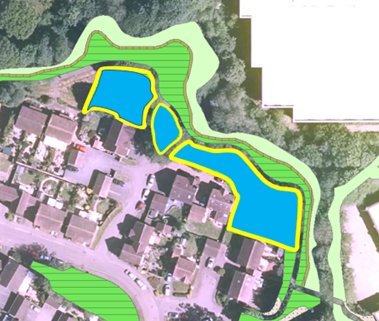 Woodlands Walk, Mannings Heath
Woodlands Walk is a good example of a large open space, that has been left to grow. It is enjoyed by many users - especially dog walkers. The wildflowers are now thriving at this site.
This area will be cut in late August / early September.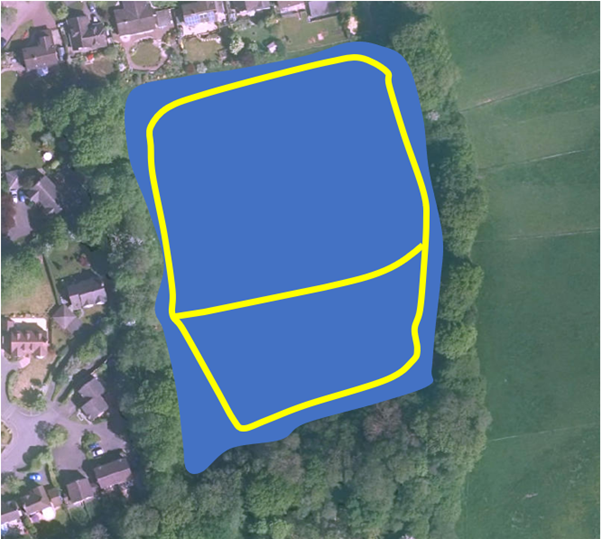 In addition, many areas at our Countryside sites including Southwater Country Park, Warnham Local Nature Reserve and Chesworth Farm have been managed in this way for many years, with visitors and residents enjoying the different habitats they provide.
Frequently Asked Questions
In our large open spaces, only small selected areas are being left to grow. There will still be plenty of space for all our visitors to enjoy other leisure activities, play sport and relax.
Access paths will be mown into the longer grassed areas, so everyone can experience them close up if they choose to do so.
We know many dogs like to explore different habitats and we acknowledge that dog fouling in longer grass may be harder to detect.
Some residents may be concerned about ticks in long grass, however these are mainly found in areas close to livestock or where deer are present. The majority of the trialled sites are within residential areas, away from livestock and deer, therefore the risk is deemed minimal. It is of course always advisable to regularly groom pets thoroughly: making sure you check the inside the ears, around the eyes, on the chin and around the muzzle, as well as between pads and toes.
We would encourage where possible dogs remain on the cut areas and shorter grasses as this will make picking up after pets easier and help protect the wildflowers from being trampled.
Sadly, littering by a small percentage of our visitors is an issue in many of our parks and open spaces and we continue to discourage this in all locations. We do not believe that having areas of longer grass makes this issue worse.
Prior to the annual cut at the end of August, the areas will be litter picked and the waste monitored.
We have been trialling this initiative for its environmental benefits, not economic savings.
Following the cut in August, when the grass is collected, there are disposal costs. These are comparative to the costs of continually mowing throughout the season.
We are looking at future opportunities to gradually increase meadow areas where it is suitable and viable to do so in future years.
If you have ideas for suitable locations, we would love to hear about them. You can email your suggestions to us at parks@horsham.gov.uk.
How can you make a difference?