Platinum Jubilee events in Horsham town centre
Platinum Jubilee events in Horsham town centre
There's lots going on in Horsham town centre over the Jubilee Bank Holiday Weekend, especially on Thursday 2 and Friday 3 June. Here's everything you need to know ahead of the weekend.
Jubilee Proclamation
Thursday 2 June, 2pm
Horsham's Carfax Bandstand
Join people across the country and Commonwealth at exactly 2pm to hear the official Queen's Platinum Jubilee proclamation, read in Horsham by the Council's Chairman, Cllr Kate Rowbottom, followed by a raising of the Jubilee flag near the Carfax War Memorial.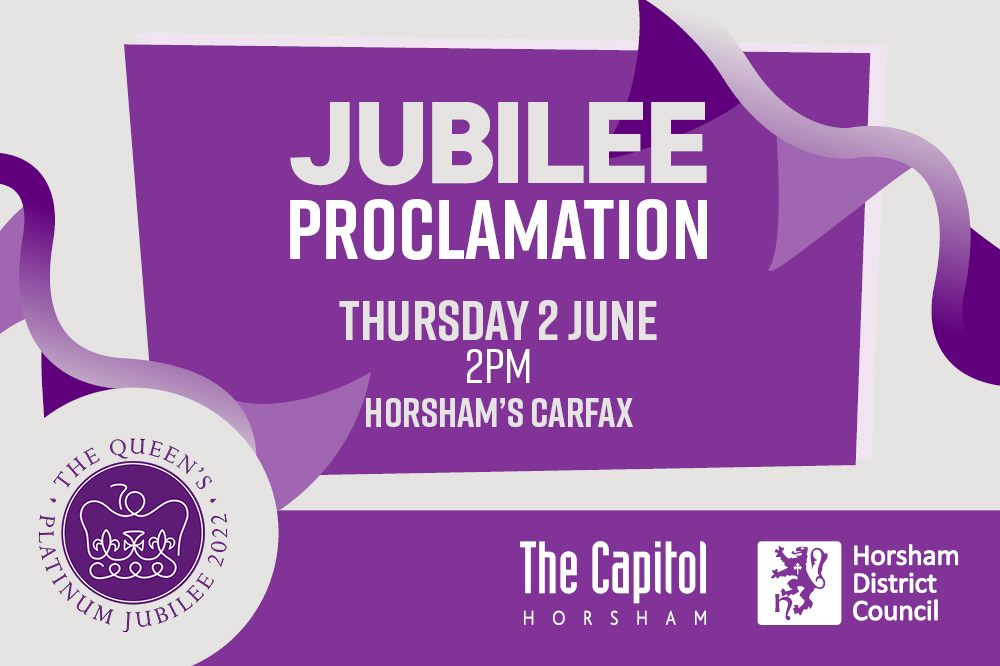 Beacon lighting ceremony
Thursday 2 June, from 9.30pm
The Capitol Horsham
At 9.45pm over 1,500 Platinum Jubilee Beacons will be lit across the UK and Commonwealth on the first evening of the four-day Jubilee Weekend.
Join us as we light our own ceremonial Beacon at The Capitol. The event will be supported by a Bugler, a Piper playing 'Diu Regnare' and the Big Notes Choir singing 'Song for the Commonwealth', both musical pieces commissioned nationally for the Jubilee celebrations.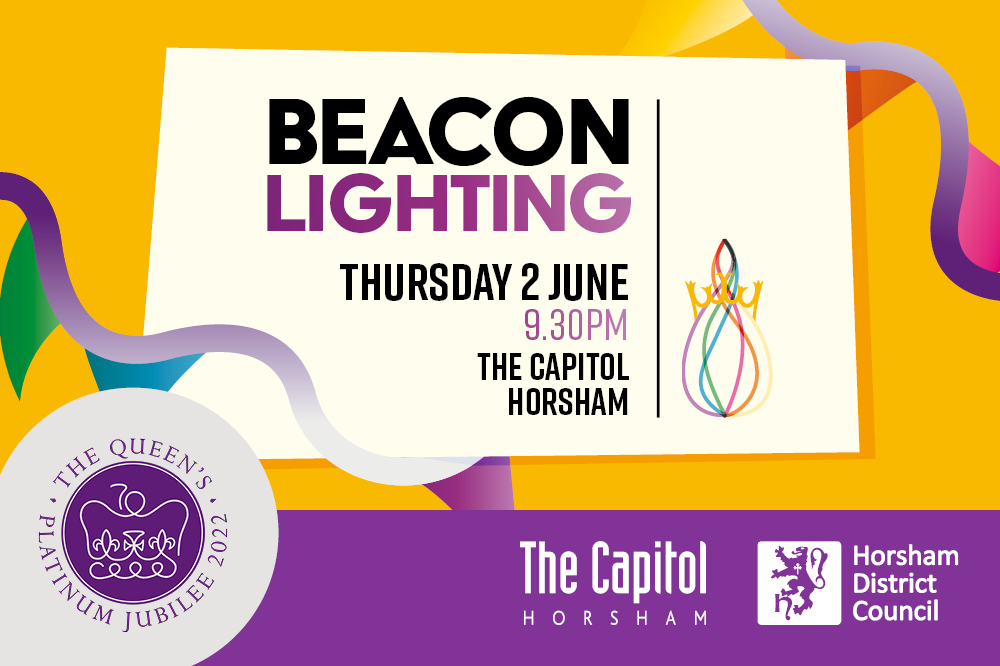 Jubilee Street Party
Friday 3 June, 12pm til late
Horsham's Carfax
Enjoy family entertainment and community awards, live music from the bandstand, arts & crafts activities, family entertainment, delicious street food and local ales, plus special offers and prizes to be won at The Capitol's pop-up Box Office* that will be in the centre of town throughout the day. You may even see a few Cinderella-themed surprises to get you in the mood for our panto later this year at The Capitol!
The day will end with an evening filled with brilliant music to get you in the dancing mood and carry the Jubilee party on under the stars. No need to book - just turn up and enjoy!
* Please note that The Capitol on North Street will be closed on this day.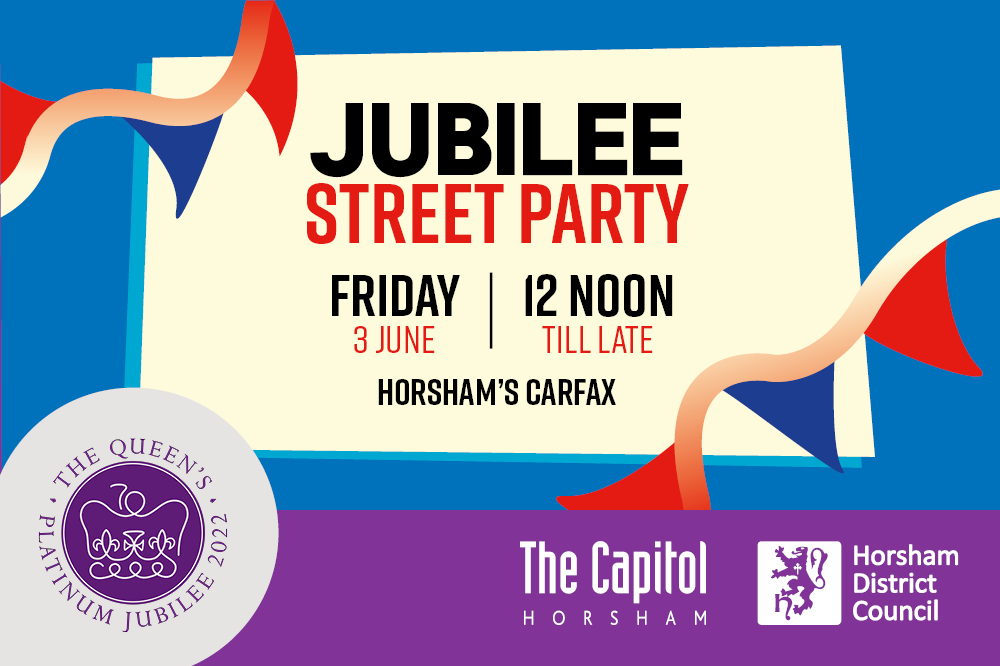 Volunteer Awards Ceremony 2022
Friday 3 June, 1.45-2.15pm
Carfax Bandstand
A special awards ceremony for our amazing Horsham District volunteers whose work plays a fundamental part of what makes Horsham District such a fantastic place to live, work and visit.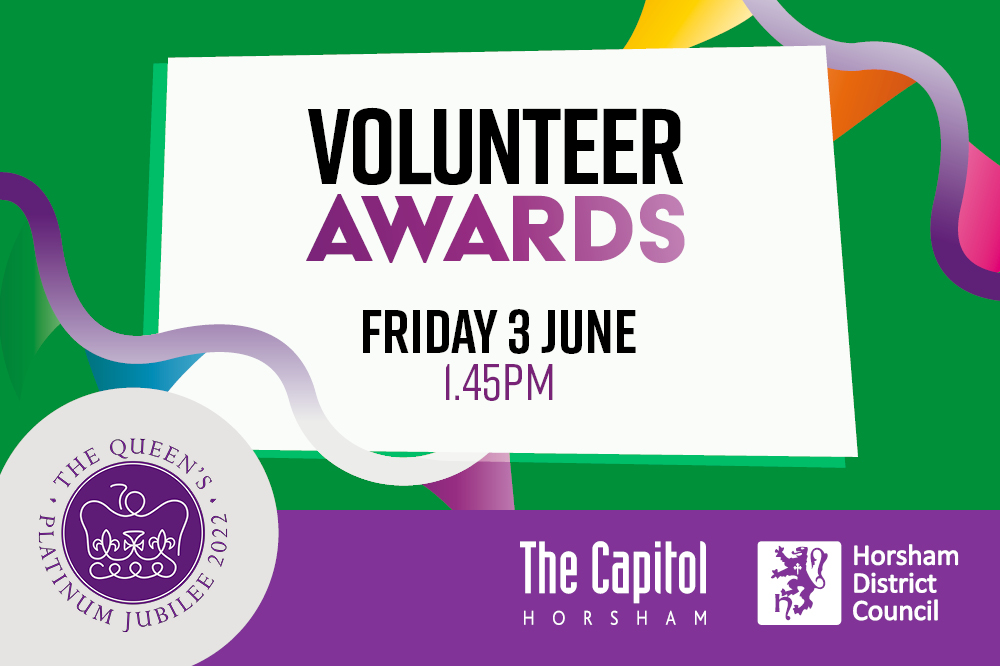 Coronation Crafts
Thursday 2 June- Sunday 5 June, 11am-3pm, Horsham Museum and Art Gallery
Drop into Horsham Museum and enjoy making Coronation-themed crafts over the extended bank holiday weekend to celebrate the platinum jubilee of Queen Elizabeth II.
The Museum is open Tuesday – Saturday and every day over the bank holiday weekend, 10am-4pm with free admission.
Craft event admission: £1 per person.