The local heat of the 2023 UK Young Market Trader of the Year competition saw Benedict Derbyshire from Viburna Spirits, a locally based artisan liqueur company, beat off tough competition to win first place.
Highly commended companies were Jade's Sweetbakes, Plastic-free refills, Resident Pheasant and CWJ London.
These companies will now go forward to the South-East Regional Final at Borough Market in London on Sunday 16 July and then potentially the national final in Stratford-on-Avon later in the summer.
Taking place in Horsham town centre's Bishopric area in West Street on Sunday 30 April, it was the first time Horsham had hosted a competition of this kind which attracted a high number of local entrants.
Shoppers came along to support some of our most exciting young business entrepreneurs as well as enjoying a broad range of delicious street food and live entertainment with interactive circus skills, and the opportunity to shop local from surrounding businesses from 11am to 3pm.
Zac Coden from Coden Events which runs the West Street Entrepreneurs' Markets commented:
The young market entrepreneurs' competition was a great success and we will definitely partner with the National Market Traders Federation to bring it to Horsham again next year. It brought lots of shoppers into the West Street/Bishopric area of the town.
We were very impressed by the broad variety of goods on offer, from sustainable household products to high quality cakes, chocolates and liqueurs and it was a joy to welcome so many new traders and customers.
We are actively looking to support more young traders in Horsham and were really encouraged by the number of potential new traders who approached us on the day to enquire about having a stall in Horsham as part of West Street Entrepreneurs' Markets.
Zac Coden from Coden Events
Organised by Horsham District Council in association with the National Market Traders Federation (NMTF) and the District's local market operators, this was a great event for visitors and traders alike with a wide range of up-and-coming younger businesses showcased. Stalls included a very broad range of goods including handmade chocolates, cakes and savouries, bags and accessories, crochet & home décor, eco – household and self-care refills and artisan liqueurs.
The judges were led by a skilled team from the NMTF and included local renowned businessman John Bartlett, who traded for many years in the Carfax as Sussex Faire, Ben Morris, Editor of All About Horsham Magazine and Sarah Gorrell from BBC Radio Sussex – all passionate enthusiasts for local markets and independent businesses.
The NMTF Market was one element of a wider Horsham District Council spring campaign to attract new and younger traders for all of the District's market operators.
West Street Entrepreneurs' Markets is currently running a promotion where reduced rents are offered for those wanting to trade for four consecutive Saturdays.
It can also offer a free taster membership of the NMTF for those aged 16-30, which includes free public liability insurance if needed.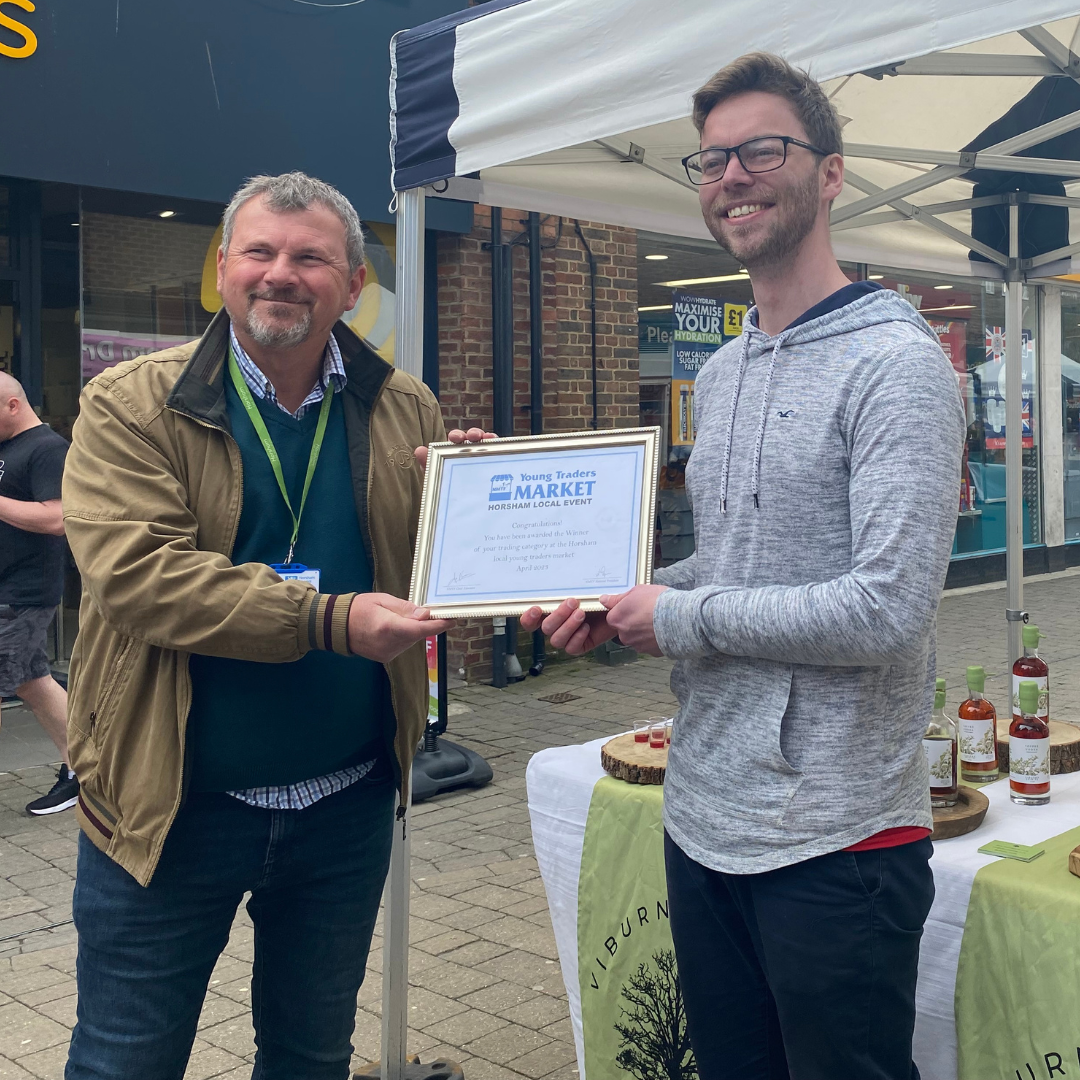 More information and terms about the Young Traders Market programme are available on their website.
West Street Entrepreneurs' Markets, launched in January this year, provides a platform for many types of stalls ranging from traditional fruit and veg, to antiques, and local businesses normally only found online.
For media queries please email press@horsham.gov.uk
Image gallery