Buy a Bulky Bag

Due to increased demand we are currently out of stock of Mega Bags. We are sorry for any inconvenience this may cause and hope to have our stocks replenished on 13 July.
Order Bulky Bags using the form below or
sign up for stock updates by email
.
Coronavirus COVID-19 update
During the coronavirus COVID-19 situation, we are receiving an increased volume of orders.
During this time we cannot guarantee that your bags will be dropped off at your property within five working days. We will drop bags off as soon as possible within staff availability. We will endeavour to collect bags within 10 working days depending on resources and will be collected in sequence of a first-come-first-served basis.
If you would like your bag urgently, please ensure you give 24 hours' notice and must be collected from Horsham District Council Hop Oast Depot, Worthing Road, Horsham RH13 0AR. Bags must be collected from the foyer only and no person-to-person contact will take place as bags will be left for the public to collect. Your bag will be ready for collection between 9am-3pm Mon-Fri.
Why choose a Bulky Bag?
Takes up less space than a skip, our Bulky Bags are perfect for disposing of DIY waste, whether you're a homeowner taking on minor renovations or a business owner working in trades on larger projects. You can count on Horsham District Council to dispose of your waste responsibly.
Bulky Bags are perfect for:
House clearance/furniture
Tiles and kitchen/bathroom items
Rubble and garden waste
DIY waste
Commercial waste
1. Choose your bag
Choose your Bulky Bag from three convenient sizes! All our prices include collection.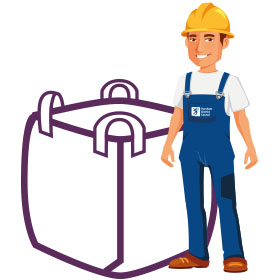 Medium
Price: £110
Size: L90 x W90 x H90cm
Capacity: 1 tonne/1 cubic yard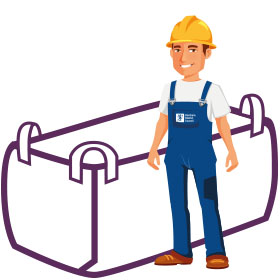 Large
Price: £135
Size: L180 x W90 x H75cm
Capacity: 1.5 tonnes/1.5 cubic yards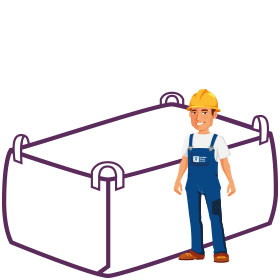 Mega
Price: £200
Size: L244 x W152 x H100cm
Capacity: 1.5 tonnes/4 cubic yards
Out of stock
If you live outside the Horsham District please put postcode of RH13 0AR and select Hop Oast Depot. In the special instructions section please enter your address details for us to deliver and collect the bag.
2. Arrange collection
When your bag is full, book a collection slot online. You will need your bag order number to arrange collection. We will aim to collect the bag within 10 working days of your request.
3. Responsible disposal, guaranteed
If you employ someone to remove waste from your property, it is your responsibility to check that they are disposing of the waste correctly. Using our Bulky Bag scheme is a way to guarantee this.
If you decide not to use Bulky Bags, ask to see the company's waste transfer certificate, or check the company is registered with the Environment Agency's public register under waste carriers/dealers. Fly tipping – when waste is dumped illegally – can result in fines of up to £50,000 and/or a prison sentence.
Terms and conditions