Ready and Able disability sports club for adults
Ready and Able disability sports club for adults
The Ready and Able Club is an inclusive sports club for disabled adults aged 16 and over.
Sports and swimming sessions at Bluecoat Sports Centre Christs Hospital
Sessions are weekly, on a Monday evening from 6:15pm (see below for full session details)
£2.00 per ticket and FREE for carers and volunteers. You can do both sessions (Sports and Swimming) on an evening for the £2.00
Please register with us by completing the registration form before your first session, and book and pay for your session online in advance
"I enjoy coming to Ready and Able: I look forward to it every week"
Joe, 32, has been coming to Ready and Able for around 12 years.
What activities do you take part in? Football and Swimming. In the past also Badminton and Trampolining.
Why do you enjoy coming to Ready and Able? I have fun, and a great time with my friends!
How does coming to the sessions benefit you? It makes me happy and fitter.
What would you say to someone that was thinking of coming along for the first time? There are lots of different activities to try.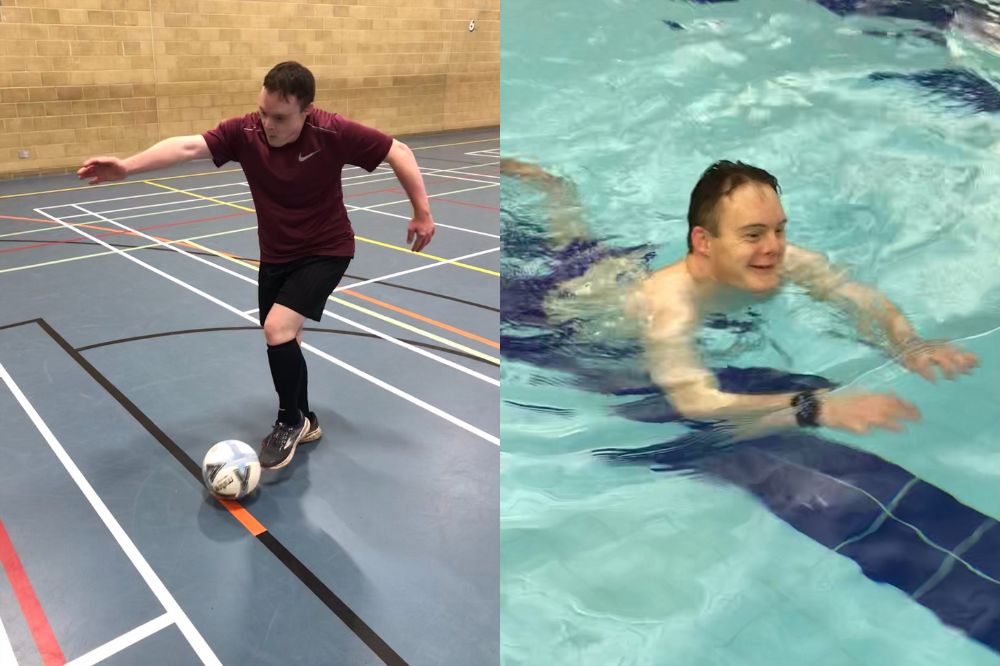 Upcoming sessions - April 2023 to July 2023
Every Monday starting on Monday 17th April 2023 until Monday 31st July 2023 except Monday 1st May, Monday 8th May and Monday 29th My which are Bank Holidays. There will be a sports session (6:15pm-7:15pm) and a swimming session (7:30pm-8:00pm) available every week for members to take part in.
You can book for a single session (Sport or Swimming), or a combined ticket if you would like to do both. Places must be booked online in advance of each session.
Sports sessions
6:15pm-7:15pm
Inside in the sports hall.
Regular weekly activities include Football, Exercise, Boccia, New Age Kurling, Badminton and Short Tennis. Trampolining and exercise sessions take place monthly on the following dates:
Trampolining: Monday 5th June and Monday 3rd July.
Exercise session: Monday 15th May, Monday 19th June and Monday 17th July.
Swimming sessions
7:30pm-8:00pm
In the swimming pool
If attending with a carer, please ensure a Carer Ticket is booked at the same time so they are included in the maximum number of people allowed to attend this activity.
Before your session
Make sure you are registered with us. If you haven't filled in our membership form before, please download a Registration form, fill it in and email Paul Taylor
Some of the sports sessions take place in the Summer on the new Astro pitch. Please wear trainers only. No metal/plastic studded trainers or moulded boots.
Book a place
Once registered, you can book a place for a Ready and Able session by following the instructions below:
Visit our online booking system
Select your session date. Ready and Able Club is on Mondays at 6:15pm.
Choose your ticket type. You can book for a single activity (Sport or Swimming), or a combined ticket if you would like to do both Sport and Swimming on the same date. There is no difference in price.
Pay online. We prefer payment to be made online at the time of booking but if you are unable to do this for any reason, we are able to accept cash payments on the day. However, you must still book your ticket online in advance of the session.
If you have any questions or problems booking, please contact Paul Taylor on 07764 146339 ot email paul.taylor@horsham.gov.uk
Related Files