Community Climate Fund - Success Stories
Community Climate Fund - Success Stories
Listed below are local projects that have benefited from the Council's Community Climate Fund. Their stories demonstrate ways to align with the priority categories and offer inspiration for new projects throughout the District.
To explore how the climate network is growing across Horsham District and throughout West Sussex, check out WSCC's Climate Change Action Map.
1st Sullington & Storrington Scouts
Queen Elizabeth II Community Garden
Project cost: £2,791
Amount awarded: £954.93
1st Sullington & Storrington now have the funds to enhance their existing community garden to achieve waste, water and biodiversity benefits. They plan to introduce hot bin composting, rainwater harvesting and an insect hotel to support pollination.
2nd Horsham Scout Group
Energy, Water and Waste Eco-Projects
Project cost: £2,381
Amount awarded : £2000
The first application in February 2021 fully covered their ambition to develop a water harvesting system via fitted gutting and multiple water butts. In addition, they integrated multiple hot composters to productively process garden and food waste. A later successful application in 2022 increased energy and water efficiency with the replacement of outdated fluorescent strip lights with new LED units and automatic water taps.
Project benefits:
Financial savings due to lowering energy and water consumption.
Less greenhouse gas (GHG) contributions equals subsequently minimising ecological footprint and climate impact.
Furthering environmental education across multiple generations.
Improve the quality of facilities available to 350+ community members.
5th/10th Horsham Scouts
Solar PV and LED Lighting Installation
Project cost: £21,919
Amount awarded: £5,000
A successful bid in August 2022 facilitated a future solar PV installation for renewable electricity generation, as well as batteries for on-site storage. Moreover, funding allowed switching current lighting to LED lights. These changes support 5th/10th Horsham scouts' ambitious targets to save 64 tonnes of CO2 over 20 years and reduce lighting costs by 50%.
Beeding and Bramber Village Hall
Solar PV and LED Lighting Installation
Project cost: £15,114
Amount awarded : £4,714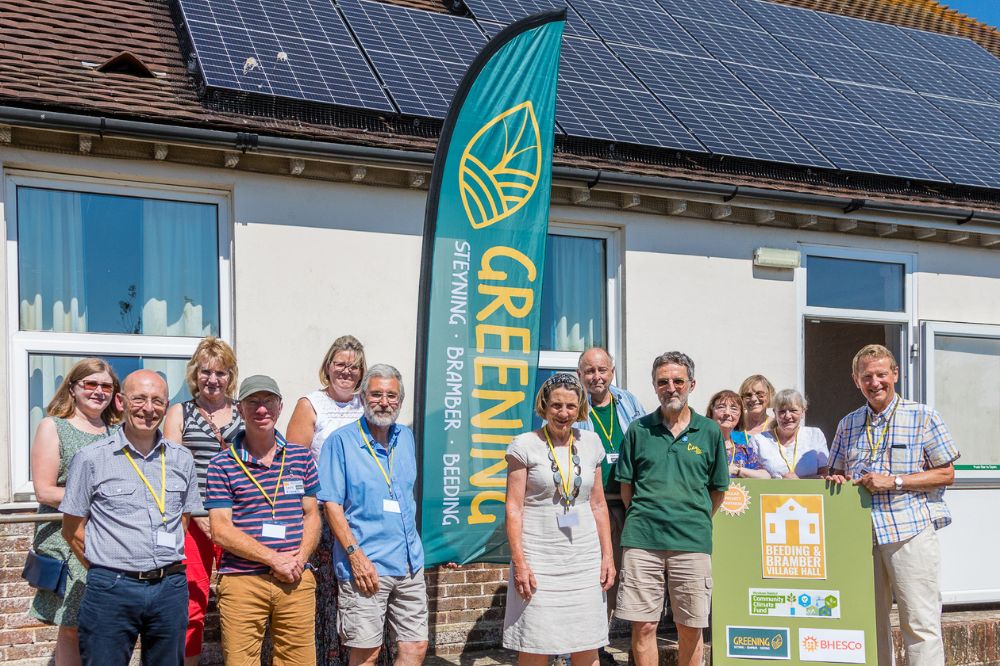 Beeding and Bramber Village Hall successfully attained funding during February 2022 to complete their sustainable energy project. The project emerged as part of a three way partnership between Beeding and Bramber Village Hall, Greening Steyning and Brighton and Hove Energy Services Cooperative (BHESCo). Due to this effective partnership and the supporting Community Climate Fund, they have enhanced energy efficiency by installing a 5.94kWp Solar PV array and upgraded to LED lighting.
Project benefits:
An estimated 1958kg CO2 saving per annum (Source: BHESCo, 2022).
Financial savings that improve value for community users.
Ensures that Beeding and Bramber Village Hall become visible community leaders on climate action.
[The Community Climate Fund] has allowed us to be a beacon for other organisations, in the village and beyond, to do something positive and change their carbon footprint.

Sue Albury (Chair of Trustees)
Chanctonbury Church
Bicycle Rack Installation
Project cost: £1,038
Amount awarded: £878
The introduction of a 5 capacity bicycle rack within the church grounds promotes sustainable mobility for both church visitors and the wider public. This action supports a reduction in GHG emissions, local air pollution and congestion.
Chanctonbury Community Leisure Centre
LED Studio Replacement
Project cost: £11,858
Amount awarded: £5,000
Chanctonbury Community Leisure Centre and their users will benefit from an estimated annual saving of £6,583 due to an LED lighting upgrade (NRG Group, 2022). Critically, their carbon emission and energy usage will both fall as a result.
Comptons Tennis Club
LED Floodlight Replacement
Project cost: £40,000
Amount awarded: £5,000
Exchanging metal halide light fittings with far more efficient and reliable LED floodlights shall save carbon contributions, energy and financial expenditure. In addition, the freed up electrical capacity permits plans with Lower Beeding Parish Council to initiate on-site electric vehicle charging points.
Friends of Horsham Park
Sense the Change
Project cost: £12,352
Amount awarded: £2,082
The Community Climate Fund has supported developments for a drought resistant sensory garden in Horsham Park. Watch their video on Twitter that explains their intentions for the grant. You can also follow project updates via their website.
Greening Steyning
The 2030 Project
Project cost: £13,500
Amount awarded: £10,000
Greening Steyning have been a highly organised and proactive climate community group since 2010. Their 2030 Project that tackles a range of environmental issues. The initial grant in 2020 helped them to establish a Repair Café and The Retrofit Project and conducted an Active Travel Survey. The follow-up grant in 2022 supported a Home Energy Helpdesk, Climate Café and encouraged community engagement through a sustainable fashion show, Wildlife Gardens Open Day and creating an interactive local nature map.
Horsham Trafalgar Neighbourhood Council
Dr. Bike Essential Bike Maintenance Classes
Project cost: £3,938
Amount awarded: £2,498
These free classes offered core cycling maintenance skills to impower local cyclists with independence and confidence. By promoting a climate friendly alternative to cars, they also matched with their desires to reduce the speed limit in the area with prioritising cycling and walking and improving air quality for all.
Horsham Community Fridge
Saturday Pop-up Events
Project cost: £1,830
Amount awarded: £1,000
The Council contributed towards the running a pop-up version of the already established Community Fridge service. Improving accessibility for residents across the District means further savings on food waste, which in turn reduces carbon emissions and strengthens community resilience.
Horsham Lawn Tennis Club
LED Floodlights Upgrade
Project cost: £26,050
Amount awarded: £5,000
Horsham Lawn Tennis Club committed to upgrading court floodlights in 2021. The development ensures a leading example for other local sports clubs who similarly wish to reduce carbon footprint and save money by minimise energy consumption.
Henfield Hall
Community Solar in Henfield
Project cost: £27,028
Amount awarded: £5,000
The installation of 60 PV solar panels represents a key step towards Henfield Hall's wider plan to become carbon neutral. This development has been supported by Sustainable Henfield and Henfield Parish Council throughout.
Henfield Haven
PV Project
Project cost: £30,106
Amount awarded: £5,000
Henfield Haven estimate that their new solar PV array will produce an annual output of 32,253kWh. This project is part of the Sustainable Henfield 2030 overall project for energy reduction in its public buildings.
Henfield Leisure Centre
Sports Hall Lighting Improvements
Project cost: £11,700
Amount awarded: £5,000
This leisure centre upgraded their 30-year-old lighting with 15 LED lighting fittings, which they predict will result in a 273% energy reduction and consequential carbon contribution. Other benefits include extending product life cycles of lights to 20,000 hours for less waste and financial savings maximising returns for community centre users.
One Church
Rock Farm
Project cost: £54,752
Amount awarded: £5,000
This investment went towards creating an outdoor space for a carbon-negative farming project with a specialist focus on including the marginalised members of the community. Here educational programs focus on alternative methods for growing food, including biochar farming and methods to improve soil fertility, as well as for planting trees.
Parochial Church Council of Holy Trinity Rudgwick (HTR)
Waste Reduction and Green Roof Recycling Shelter
Project cost: £3,134
Amount awarded: £2,500
HTR won funding in the final round of 2022 to fulfil their vision of extending recycling operations that collect items missed with kerbside services. The plans involve constructing a green roof recycling shelter to upscale waste reduction, increase biodiversity and absorb CO2. Also, they intend to extend education through a local sustainability network with schools, businesses, Rudgwick scouts, and in partnership with the national Eco Church community.
Southwater Village Hall
Air Source Heat Pump System
Project cost: £29,700
Amount awarded: £5,000
A successful application eased the cost of installing an air source heat pump to replace a gas fired boiler. This not only reduces immediate energy use and carbon emissions, but also acts as investment in preparation for future cost and policy changes.
Springboard
Springboard Green Fund
Project cost: £2,749
Amount awarded: £2,749
The provision of Smart Radiator Valves improved the energy efficiency of their building and a new electronic bike purchase now encourages sustainable mobility for staff.
St. Mark's Church, Holbrook
Holbrook Community Orchard
Project cost: £1,000
Amount awarded: £1,000
St. Mark's Church have been accredited with Eco Church recognition. They selected to develop their community garden via tree/bulb planting, food recycling, rainwater collection, whilst completing wildlife and local community surveys to review progress.
Steyning Tennis Club
New Energy Efficient LED Lights
Project cost: £24,050
Amount awarded: £5,000
Steyning Tennis Club will soon replace 12 floodlights with LED capabilities to decrease CO2e contributions by 61%, increase the product life of lights by 4-5 times and improve lighting quality for 224 members and non-members with access.
Sussex Green Living
Bright New Future Road Show
Project cost: £17,000
Amount awarded: £5,000
Sussex Green Living are an award winning charity for their climate endeavours since 2012. Financial support was given towards creating an 'Eco Innovation Station' as a retrofitted milk float that tours events across the District. Here individuals can receive information regarding how to reduce their carbon footprint. You can discover more about the project here.
Sustainable Henfield
SH2030 - Plastic Waste Reduction
Project cost: £956
Amount awarded: £956
Sustainable Henfield are a well established community group who lead a 10 year plan centred around carbon reduction, biodiversity, consumer issues and transport. The Council's Community Climate Fund supported the recycling of disposable PPE via the introduction of Zero waste bins at strategic points around Henfield.
Transition Horsham
Community Allotment Outreach
Project cost: £690
Amount awarded: £690
As a local network, Transition Horsham play a key role in driving climate action within the District. This grant assisted with their desire to extend access to a free and mutually supportive sustainable food producing community. The funds contributed towards developing a 'heritage bed', continuing to support over 25 people in seed circles and also expanding the already successful Seedy Saturday seed swap initiative.
Upper Beeding Baptist Church: The HUB
The HUB Beeding Solar Panels
Project cost: £13,768
Amount awarded: £5,000
Part funding for an 8kW solar PV array that will help this community building become a showcase example in how to reduce fossil fuel dependency.