Footprint GPS tracker
The Footprint is a location tracking device and mobile phone, all in one. It provides reassurance and safety whilst giving you independence. The device can be carried by active and vulnerable people such as those living with dementia, mobility issues, victims of domestic violence and lone workers and features an SOS button in case of emergency.
Using GPS and GPRS tracking, it allows instant location in case of emergency, for example if a person with dementia who has wandered and cannot recognise where they are.
The tracking system uses Google Maps location and is easily accessed on any smartphone, computer or our control centre with password recognition.
Although it's a mobile phone, it has additional features such as geo-fencing, speed sensors and fall alerts meaning that it can be used for a variety of client's needs.
How does it work?
The Footprint is to be kept on your person at all times and is connected to a monitoring centre. If you require help of any kind, simply press the SOS button on the front of the device. Watch our video below to find out more.
Who is it for?
The Footprint device is for people of all ages and vulnerabilities across the Horsham District.
Anyone can use a Footprint, our clients include:
Older or vulnerable people
At-risk adults/children
People living with dementia
People with long-term health needs
People who live alone and feel vulnerable
People who are returning home from hospital
People prone to falls
People with disability or restricted mobility
People who want to remain active and independent
Unpaid carers who would like extra support
Lone workers
How much does it cost?
To have the control centre monitor it 24 hours a day, 365 days a year, it is £22.50 a month plus VAT (if applicable)
If you have nominated people who can monitor it such as carers or family members we are able to provide it at a lesser charge of £15.82 a month plus VAT (if applicable).
Or call us on 01403 215 230
Personalisation
The Footprint is made personal to the client. Customers can choose from a range of colours and it can be linked to at least one smartphone, which will control its use and receive any alarms.
It can be connected with up to three telephones, either mobile or fixed, in order to communicate by voice or text message. You will receive full support from the Community Link team who will set up the device and show any users how to operate the system.
The tracker gives me the freedom to visit people and live my life as I want to live it
Mrs McNeil, Footprint user
Rita McNeil has been using our Footprint product for over two years as a way to combat her asthma.
"I'm an asthma sufferer and never know when an attack can happen, so the tracker gives me the freedom to go out visiting and live my life as I want to live it, knowing that I can always be found if I get into difficulty. It makes me feel safe.
"I first used the Footprint tracker when I was outdoors walking in the countryside with a neighbour who uses a mobility scooter. We were in the middle of nowhere and she became stranded, but using the tracker we were able to raise the alarm and get people out to come to our aid.
"Before I had the tracker I didn't feel confident about going out but now I am more confident. I am not isolated with this."
Products you may also be interested in
Related products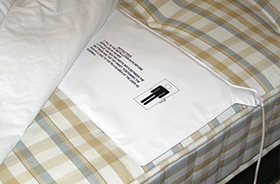 Bed occupancy sensor
The bed occupancy detector can detect if you've got out of bed throughout the night. It will monitor the amount of time you are out of your bed and if you don't return within a set time period, our centre will be immediately notified.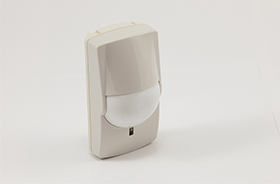 Property exit sensor
The property exit sensor (located above the door) can detect if someone has left the house and not returned. It's particularly suited to people who are at risk of walking off and putting themselves in danger, such as those with dementia.