Virtual Reality sessions
Our Virtual Reality service is a range of immersive virtual reality experiences for people living with dementia and other healthcare needs. It is also used to reduce stress levels in medical and care staff, to improve attendance and quality of life.
How does it work?
See the video below of an example of our Virtual Reality for Health sessions and the benefits it can have on people.
What should I expect from the session?
A trained adviser will bring the equipment to your home, or agreed location, and will set up and run the experience. Users must always be accompanied by someone who knows them very well to support them with the experience, preferably someone who knows their life history. Knowledge about the user is key to using the immersive experience as a reminiscence tool, as well as for recognising any indicators of ill-being through the experience.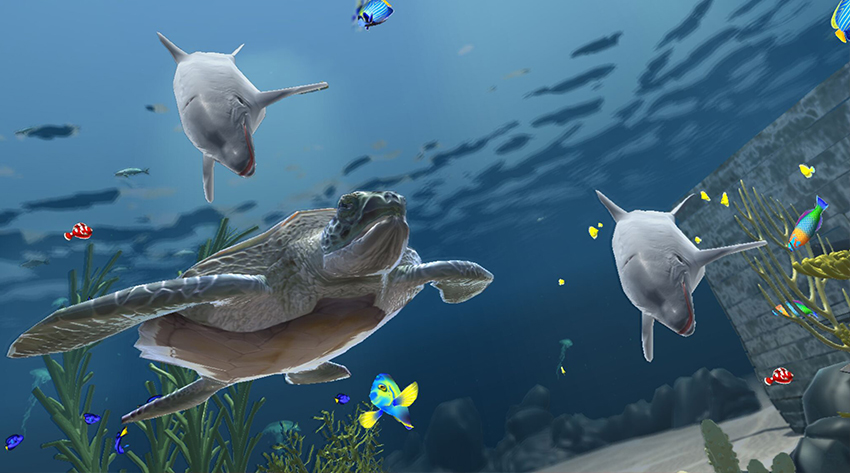 Our scenes include a nostalgic beach, a forest full of animals, a luxury yacht overlooking a coral reef and dolphins playing in the sea, an underwater experience of the coral reef and dolphins, a view of the Earth from the International Space Station to relaxing piano music and a wildlife safari amongst others.
There will need to be a comfortable chair for the person/people to use when experiencing the Virtual Reality. The adviser will let the user settle in to the chair and explain the experience before use.
It is always offered never forced. If the intended user shows signs that they would not like to use the experience, the adviser will stop immediately.
Why are we offering this service?
We are excited to be the first Council in the country to offer this service. We are committed to finding innovative ways to keep happy and healthy. Being able to offer this service on a rental basis means that people who otherwise could not afford to use the latest technology can now have access to it.
"The experience was absolutely remarkable"
Mrs Green, Virtual Reality for health user
Janet Green has used our virtual reality for health sessions several times to help improve her sleep and well-being during her treatment at Horsham hospital for POTS (Postural Tachycardia Syndrome).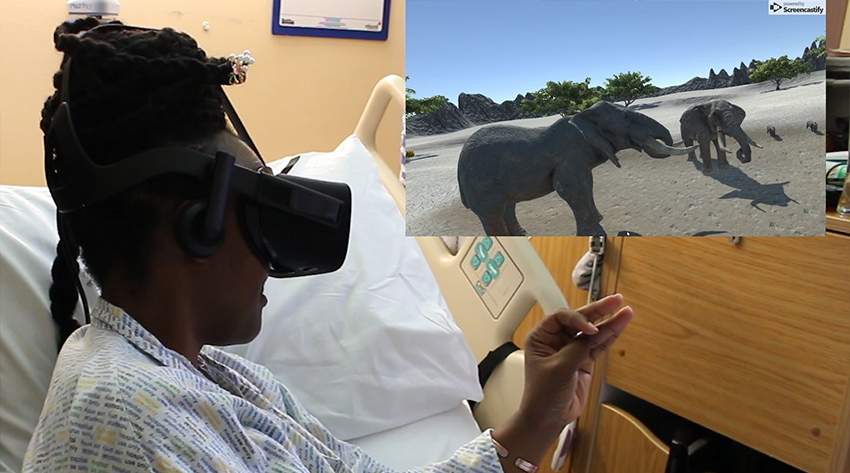 "When I was giving birth I had issues with POTS (Postural Tachycardia Syndrome). And what that does is my blood pressure just drops and I collapse, anytime, anywhere, sometimes it happens three, four times a day."
"The best night I've had since I came [to the hospital] was nearly 4 hours sleep. I've been getting 1 and a half hours, 1 hour and 20 minutes, a good night is 1 hour and 45 minutes."
After expressing her interest in the Virtual Reality for Health service we organised a visit to see Janet in hospital so she could try the experience herself.
In the days after the session Janet felt "a tremendous feeling of well-being" saying "her body felt at peace". Usually Janet has between 1 and 2 hours sleep a night but after the experience she remarkably slept for a full uninterrupted 6 hours, allowing her to go without her mandatory doses of pain relief throughout the night. Janet concluded that "the experience was absolutely remarkable".
How much does it cost?
We offer 30 minute sessions in the comfort of people's own homes for £30. This includes the set up of the equipment and a fully trained adviser with you the whole time. Longer sessions and large group sessions are also available upon request.
Payment for the session will be taken at point of booking and confirmation will be emailed or posted with the information of the booking and receipt of payment.
Or call us on 01403 215 230
Award-winning service