Southern Water works at Chesworth Farm
Southern Water works at Chesworth Farm
Horsham District Council have received formal notice from Southern Water, under section 168 of the Water Industry Act 1991, that land owned by Horsham District Council will be affected as part of the Mannings Heath Wastewater Treatment pump away scheme.
This will affect Council owned land at Gagglewood, Mannings Heath and Chesworth Farm, Horsham.
The information below has been provided by Southern Water and the archaeological investigation works as detailed in point 2 below are due to begin week commencing 20 March 2023.
Project Overview
Southern Water are investing in a new pumping station and pipeline to transfer flows from Mannings Heath wastewater treatment works, near Golding Lane, to the Horsham sewer network at Chesworth Lane. The project involves a 3.8km pipe laid through fields, with construction works starting summer 2023 and finishing December 2024. The work will be carried out in sections, with Chesworth Farm currently scheduled for autumn 2023.
The map below outlines the proposed pipeline in its entirety.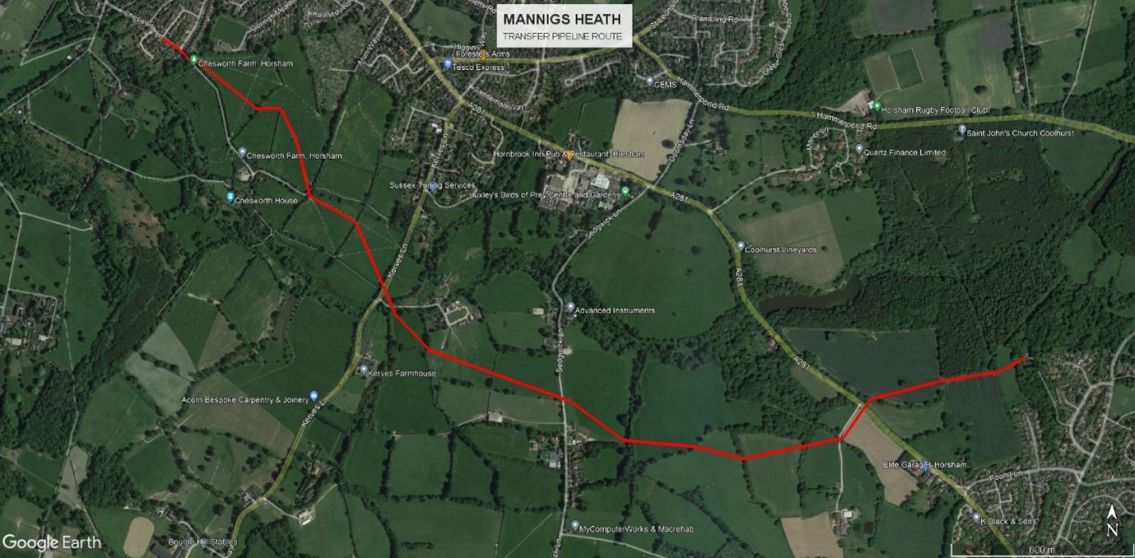 Investigation Works
Surveys and investigations to inform the construction project are in progress. Archaeological investigations along the pipeline route due to start at Chesworth Farm week commencing 20 March 2023.
The archaeological investigations take the form of a series of shallow trenches (15m long x 600mm wide and 300mm-1m deep, spanning a length of over 1000m). This will allow the archaeologists to survey the ground and confirm the absence of items of archaeological significance ahead of the construction activities.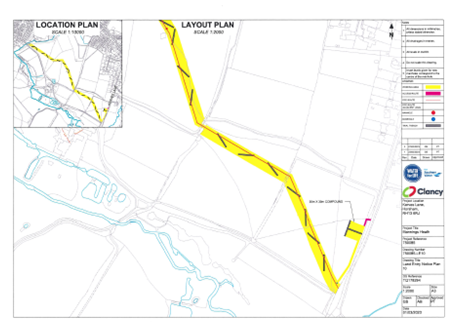 The maps highlight the investigation works due to begin at Chesworth Farm on 20 March 2023. This work is expected to take three weeks to complete.
Southern Water's working days will be Monday to Friday 7.30am to 5pm, but no noisy work will start before 8am.
During this time the Farm will remain accessible. We would ask all visitors to please keep dogs and children away from the fenced work areas, as there will be heavy machinery operating.

Please follow all on-site signage and any temporary diversions that may be in place.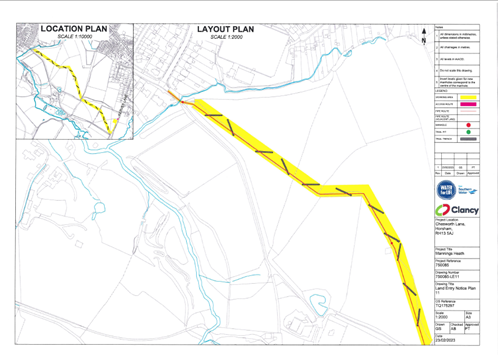 Contact Southern Water
Please be aware that Horsham District Council have no additional information on this project and are unable to answer any further queries directly at this time.
If you have any questions or would like to know more, please email jenny.keirle@theclancygroup.co.uk.

Alternatively, please call Southern Water on 0330 3030 368, advising the call centre you are calling about Capital Projects, with Project Reference Number (PRN) 751162.