Recycling champions

Hot Bin trial
Our first recycling champions project is a Hot Bin trial.
A Hot Bin can take anything from cooked food waste (including bones) to peelings and turn it into rich compost in 30 – 90 days by heating the waste up to 60°C. The result is a nutrient-rich compost for your garden for minimal effort and reduced food waste in your rubbish bin.
We've given seven Horsham District families a Hot Bin and a food waste caddy each for the kitchen. The families will weigh the food waste they put into the Hot Bin and provide feedback each month. We're looking forward to seeing how they get on! Meet some of our families below.
Coakley family
Our first recycling champion is Amanda, who lives in Horsham with her family. Amanda signed up to trial a Hot Bin organic composter for six months and will keep us updated on their progress.
In our first video, Amanda talks to Councillor Philip Circus, Cabinet Member for Environment, Recycling and Waste, about the project and why she wanted to get involved.
In her September video, Amanda tells us more about using the caddy for her family of four, and shows us:
What other materials you can add to the caddy, alongside food waste
How to check the Hot Bin's temperature
How to add your full food caddy contents to the Hot Bin
How to identify the base level line, and what it means
Results after 6 months
The Coakleys have reduced their general waste by over half in just six months! They have composted some 115kg of food waste by using the bin, saving this food from going to waste.
Amanda said: "We are absolutely grateful for the Hot Bin and I don't think we'll ever go without it again. The benefits have been amazing. We've seen a big reduction in our residual waste, and we have no odour from our kitchen bin.
There is now a consciousness in our household about not producing waste, that wasn't there before, and best of all we get compost for the garden!"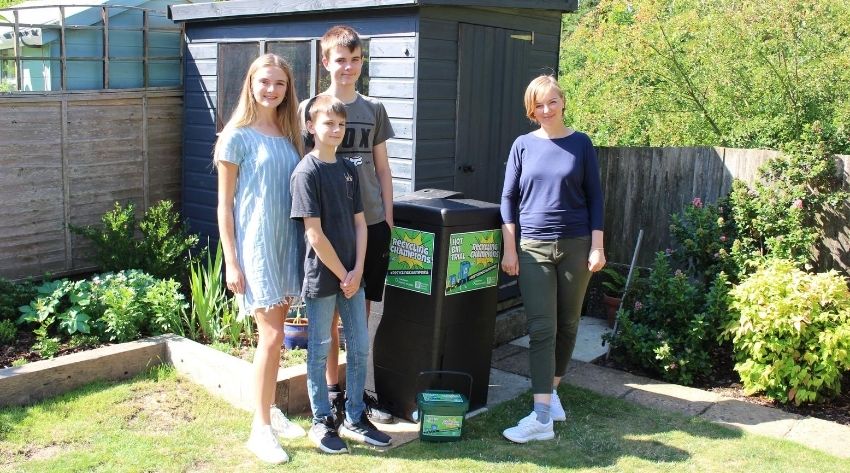 White family
"We're relatively new to the composting scene and are really excited to reap the benefits of a hot bin and all that it can do! We decided to take part in the trial as we're always keen to try out new things and were wanting to more readily compost our cooked foods."
January update
"It's been holding at 70F, even covered in snow!
We have been surprised by how much weight we have added to the hot bin in just one month. We just put our refuse bin out for collection last night only to find that in two weeks we haven't even put one bag in, such is the ability to recycle and compost now!
We have also been really enjoying the liquid gold coming out of the hot bin. Every week we get a good 1-2l of pure fertiliser pouring out from the tap, which we use to feed all the plants and trees beginning to show signs of life as we head towards spring."
March update
"It is going really well, although we added a number of twigs in clearing up the garden and the temperature really dropped after that. So we cut them all up a little smaller and added the hot water bottle and it restarted within 24 hours.
"Be sure to cut up any twigs into smaller 5-10cm sections to ensure the bin remains hot and allow the compost to break it down more easily. We added twigs that were too big, but on realising that, we cut them up adding the hot water bottle and things were back up to speed in no time!"
August update (end of trial)
"Our household waste has significantly decreased as we are now able to compost almost all organic matter. We definitely recommend getting a Hot Bin and making full use of it."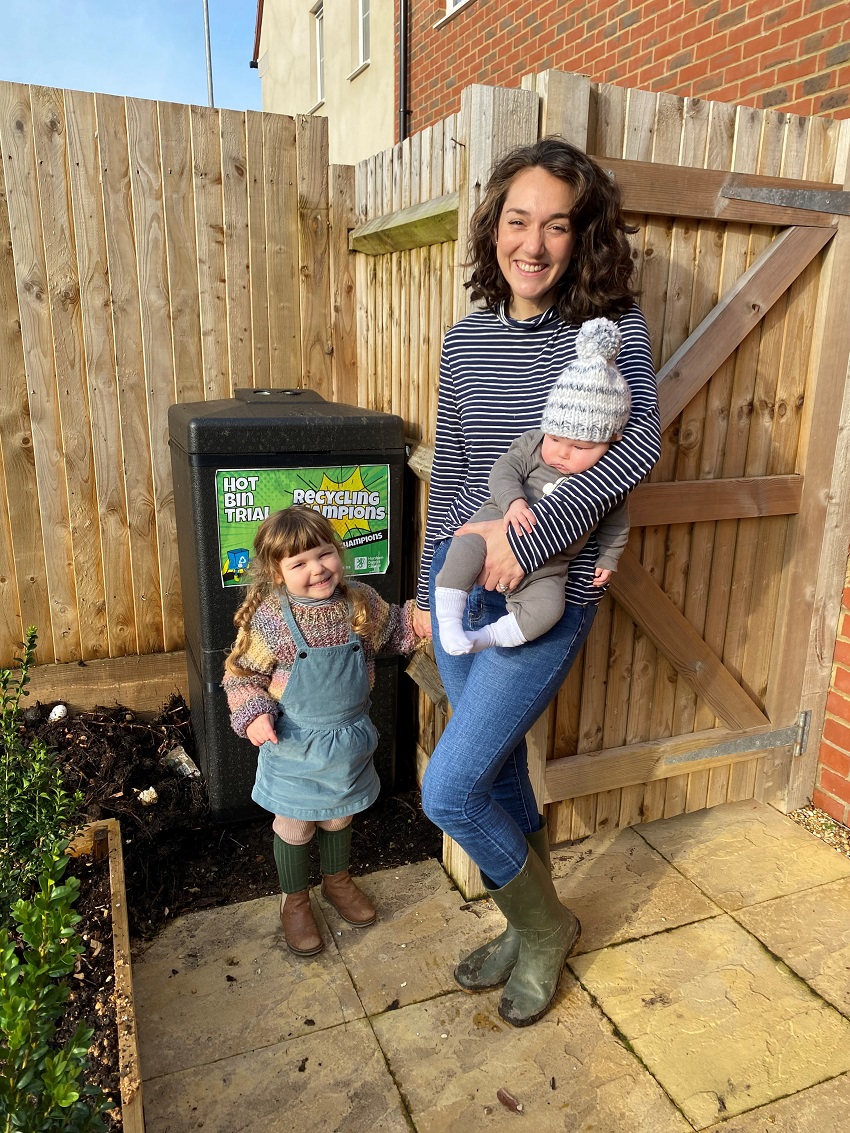 Hall family
"We are keen to take part in the hot bin trial to reduce the amount of waste we need to put into our general waste bin. We have a digester in the garden but throughout the winter we cannot use it. We hope with the hot bin to be able to put our food waste in it all year round."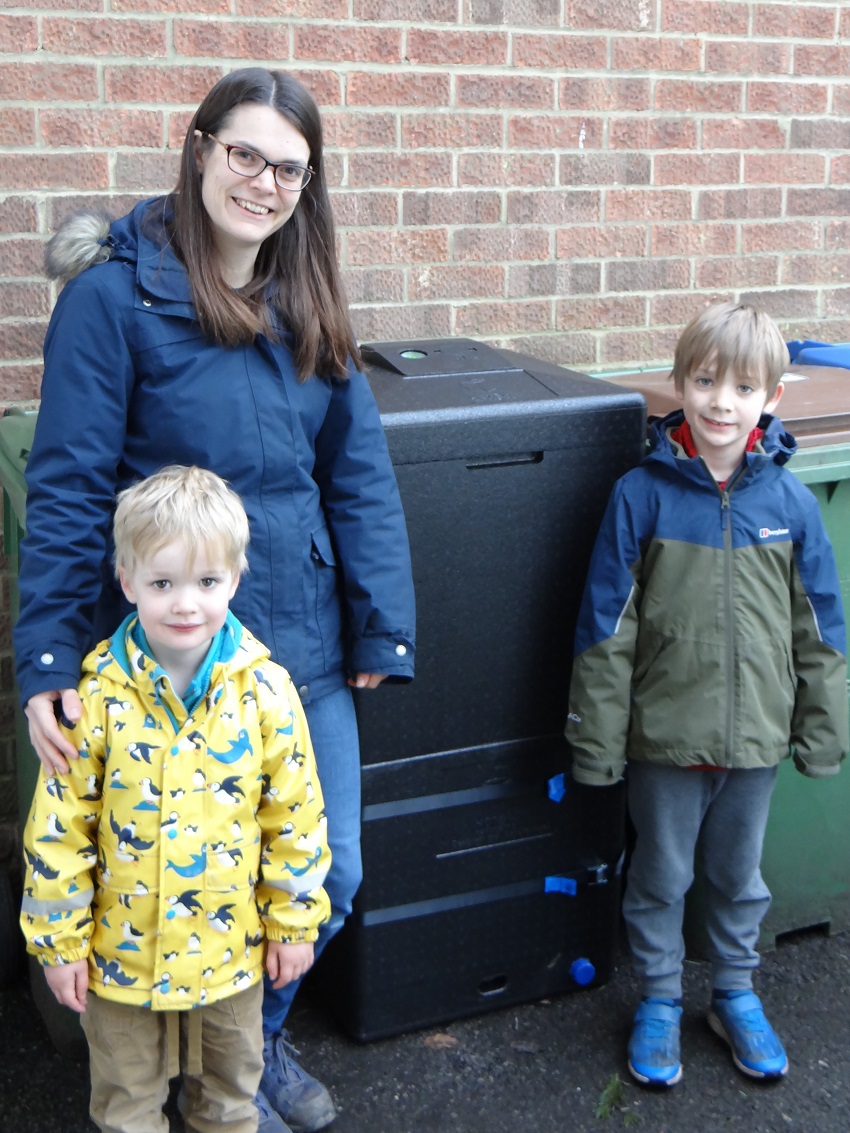 Barber Bacon family
"We decided to take part in the hot bin trial to help reduce the amount of waste created by our family of four going to landfill and for the opportunity to use our kitchen waste to produce our own compost to improve the soil structure for our future vegetable growing."
March update
"We are almost at the level where we can use the kick start bottle to help reach optimum composting temperature.
My best tip so far: make the items going into the hotbin small. I think cutting items to about 4cm pieces is recommended and have found doing this has greatly increased the speed in which the food items are composting."
August update (end of trial)
"Using the bin was something all of the family got involved in. The kids were fascinated with the composting process and it actually encouraged us to be in the garden more as we were using the compost while building our vegetable patch.
"I found the hotbin fairly easy to use but have learnt that you do need to keep observing it to ensure it has the right balance of waste products to work at its most productive. It took quite a while to establish a foundation that would reach the optimum temperature for composting but once we were there, the hotbin has been truly amazing for our family."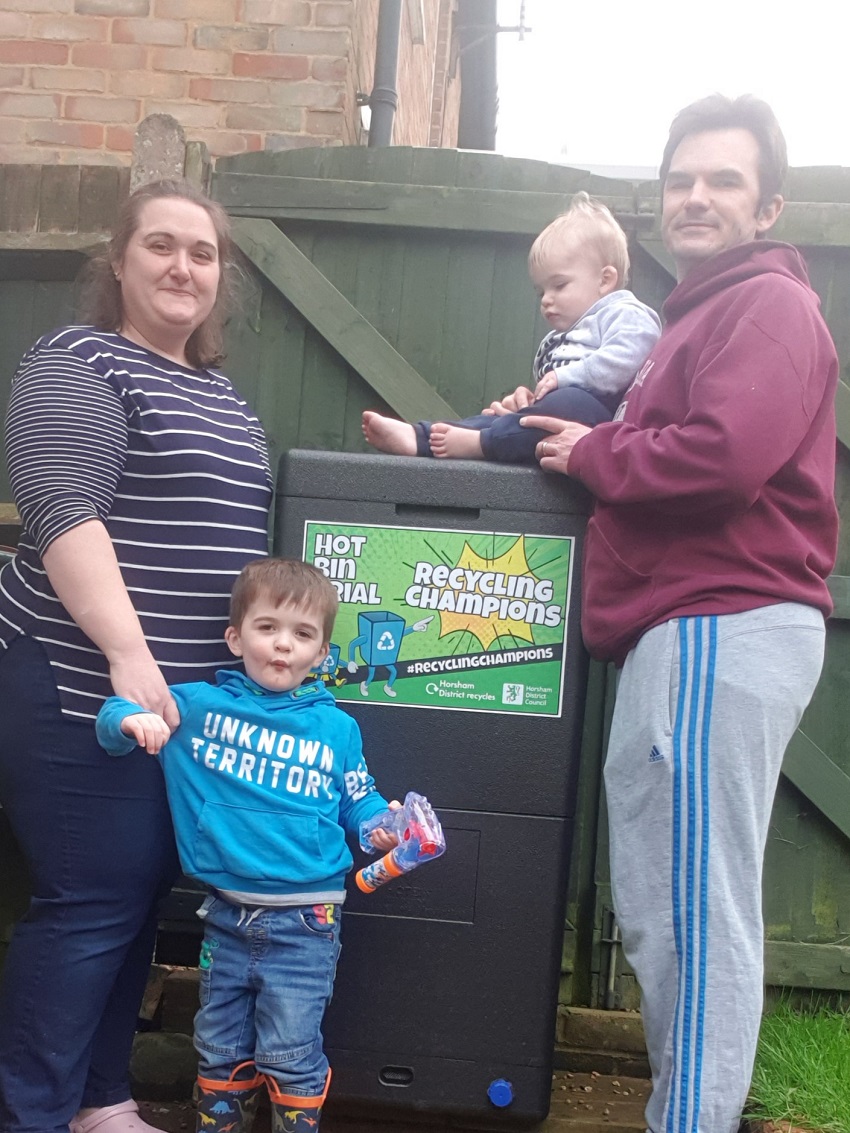 Hiron family
"I signed up for the trial as it's completely up my street as I try my best not to create waste, recycling and composting where possible. It really caught my eye as you can compost quite a few things that you can't put in a wormery, such as waste meat and fish off cuts. We eat a lot of veg and my wormery is getting quite full with peelings."
January update
"I was concerned about the amount of paper that needed to go in at first, but we actually have loads. None goes in the recycling anymore. We're gradually raising the temperature - battling the cold outdoor temperatures!"
August update (end of trial)
"The hot bin is really good. I have a really quite small garden and found space for it. I had a wormery before starting this trial and that was a little limiting as you can't put certain things like onions or citrus in that. The hot bin takes everything. You just have to take time to cut some things into smaller pieces to speed up the composting process.
I've cut down my household waste even further to the point where I have no food waste, just packaging. I've harvested some compost and it's really good quality, no food bits that haven't broken down yet (you could pop them back in for a second go if you did find this though). I would recommend it and have been telling people about it."
Sitton family
"We decided to have a go at the hotbin trial as we have a couple of normal compost bins, and it looked as though the hotbin would work better and the compost could benefit the ground quicker. If this does prove to be correct, we will have improved soil to have better returns from what we plant - maybe a shorter time from plant to harvest? We will see."
August update (end of trial)
"We found the hot bin excellent! We use it for waste food stuff from our daughter's family and mother's flat too. It has never been full as it decomposes quickly now it is actually hot. We had the devil of a job to get it started so that could be a problem for some people, but simply persevere! So, all household food waste from 3 households goes into it and there is about 1/4 still to fill it. We grow a fair bit in the garden and all leaves, and roots/scraps are put in the bin. Previously we had 4 on the go, but now we can compost 'harder' stuff like twigs and leaves (for leaf mould) which we were not doing before. It should be an essential part of the garden for everybody; which would reduce the burden of communal disposal."