Horsham Park

Horsham Skatepark Open Day
Saturday 3 June
11.30am - 6.00pm
Head on down to Horsham Park skatepark on Saturday 3 June, for our free family open day.

Taking place between 11.30am – 6.00pm, we've teamed up with professional demo team, Team Extreme. Their team of pro-riders will be leading workshops, offering professional tips and tricks to improve your riding, running mini comps for riders of all ages and abilities and performing demo sessions throughout the day.
Sign up on the day is essential to take part, sign up opens from 11.00am.
All under 18's must have parental consent to take part.

From 11.00am - Competition and Coaching sign ups
11.30am - Team Extreme Pro-rider demo
11.50am - Coaching and workshops
1.00pm - Team Extreme Pro-rider demo
1.30pm - Workshops and free riding
3.00pm - Team Extreme Pro-rider demo
3.20pm - Mini Comps (including Spot Comps / Highest Hop/ Highest Ollie and more)
5.45pm - Team Extreme Pro-rider demo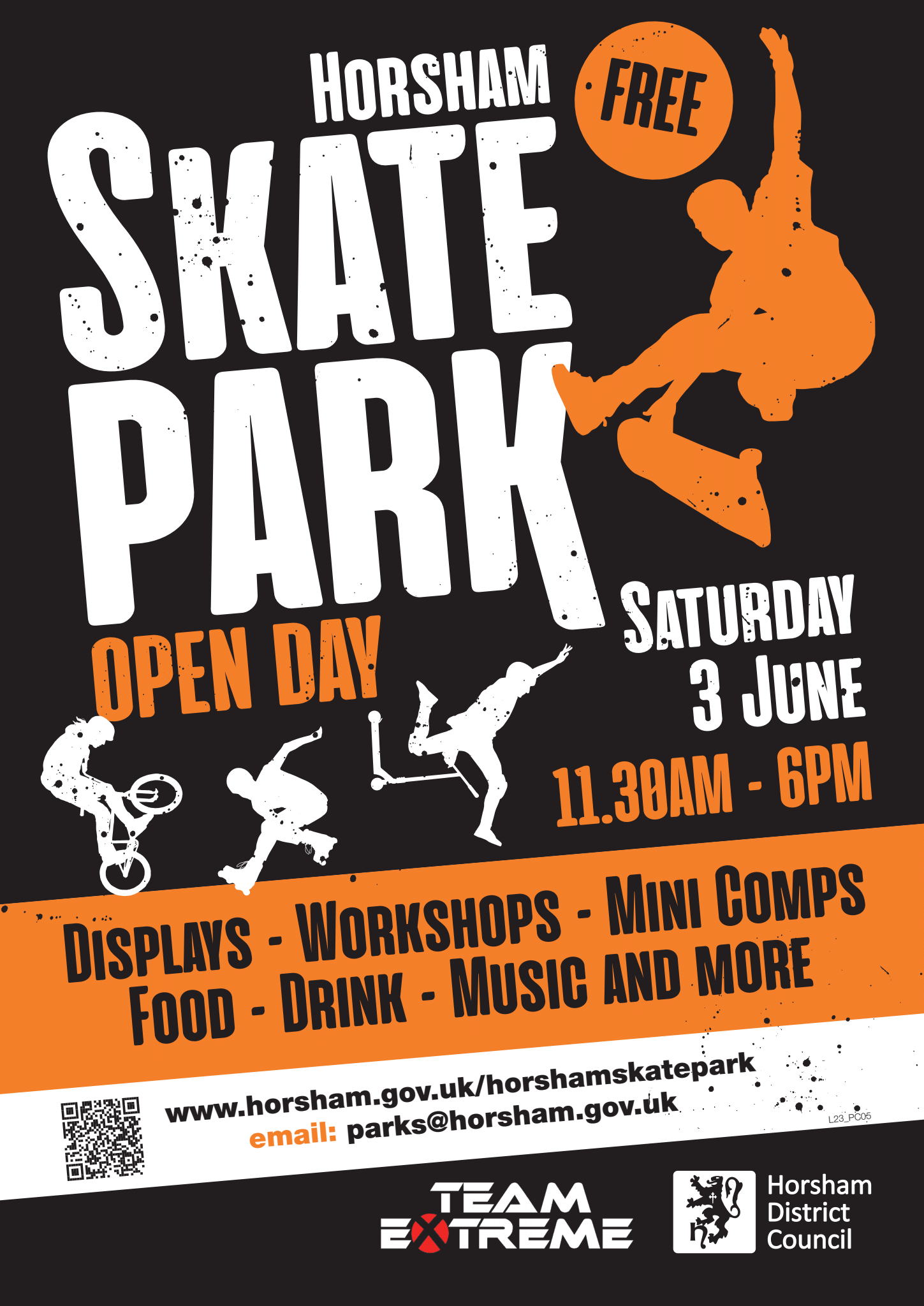 All riders taking part must wear helmets.
Food and drink will also be available on the day.
---
Horsham Skatepark
We're excited to confirm that the newly built skatepark at Horsham Park is now open.
Through the project, we have worked closely with a brilliant group of local BMX, skateboard, scooter and inline skate users to ensure that the new park has high quality features for each of the disciplines and legacy features, while retaining the spirit of the old wooden park.
The fantastic new concrete park was designed and built by street sport specialists Betongpark who demonstrated an innovative approach to the design of the park and attention to technical detail. It's been designed to be welcoming and a great place to be.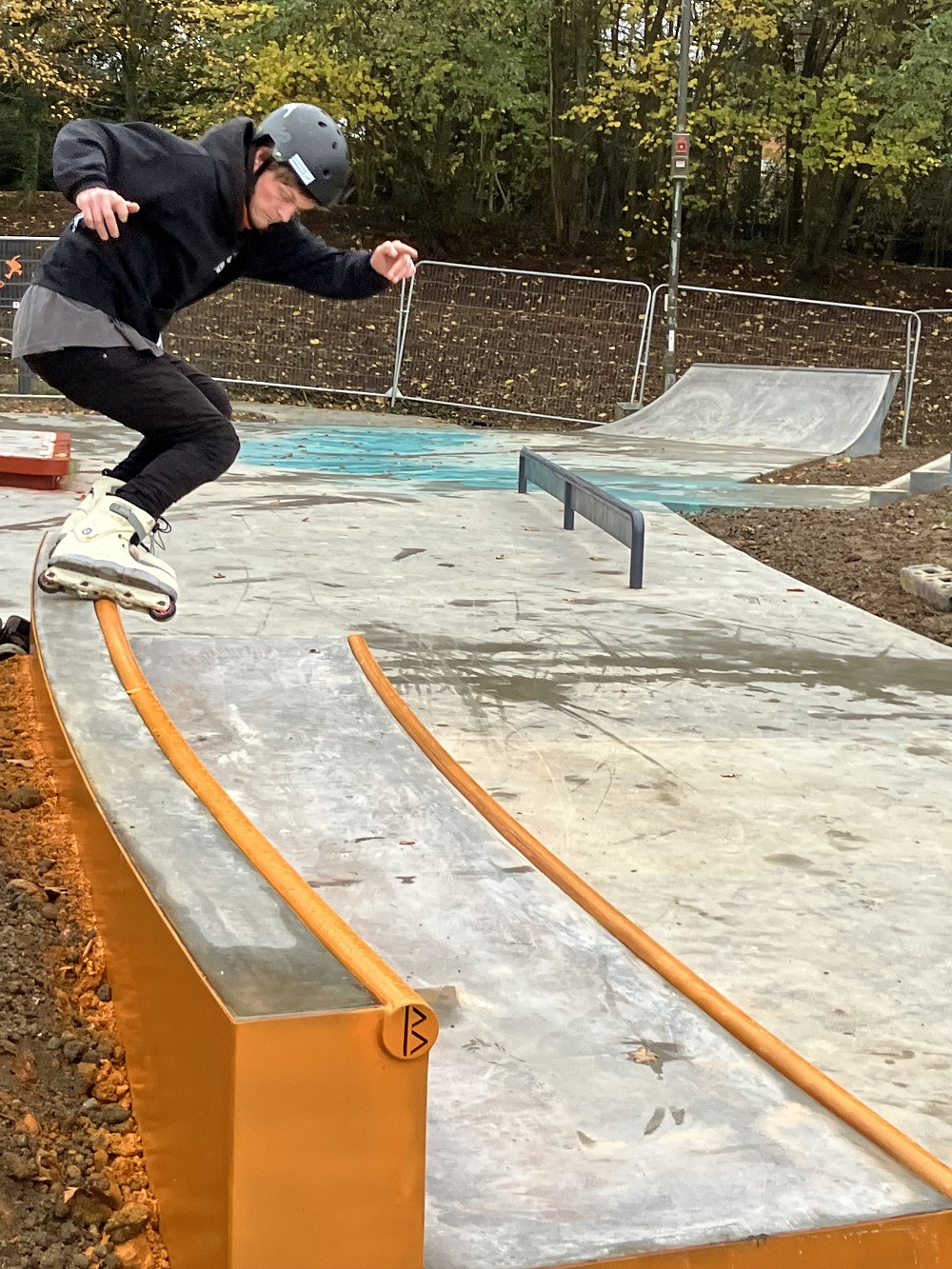 There are some finishing touches still to come: refurbished seating areas, new bins, broom rack, water refill station and establishment of the grass.
Whilst the weather is wet, please help us take care of the skatepark by avoiding the muddy areas.

The skatepark is easily accessible by train and public transport from the Station Road entrance. The closest car park is The Pavilions in the Park.
In June 2023, we will be hosting a skate jam to celebrate the new park. Keep checking this page for more details of the event and how you can get involved.
Park layout
Following an extensive consultation process, the skatepark design was developed to respond to local needs while still catering for all types of wheeled sports.
The existing skatepark was removed in August 2022 with construction starting shortly after. The high-level concrete flow, with ramp heights of up to7ft 6, was initially created with the lower level street plaza with trick / jumps and rail features followed.
The plaza section was originally planned to be tarmac,but has been built in concrete which will create a better riding experience for all users.
The team from Betongpark worked tirelessly through adverse weather conditions to deliver the project on time.
The most significant change following the March 2022 consultation was to the large open flow section, which was expanded in every direction to feature a more pronounced hip, extension and jump ramp line. Ramp heights are up to 7ft6.
The change in shape and addition of the jump ramp line allows for a more diverse riding experience, especially for BMX and scooter riders who favoured this style of obstacle. Skateboarders will also benefit from the changed positioning of the pump bump, which can be used to retain speed while in the bowl.
The much loved two stair in the teardrop area has been replicated, including a shotgun coping hand rail and addition of a kicker / step up, well used by scooter riders.
Overall, each new area of the park can be ridden by all wheeled users, with certain features throughout catering for different riding experiences and preferences.
Plaza area
A new low-level spacious plaza has been designed for the project.
A specially designed rail for rollerbladers has been added, along with a hardy concrete ledge which is ideal for skateboarders.
About our user group
Regular users of Horsham Skatepark might recognise some of the team we are working with. Each rider has a different discipline, but all have a shared passion for creating an excellent new park.
Caelan Mumford
Jake Betts
Joshua Betts
Gavin Betts
Lucy Adams
Josh Budden
Chaz Pettitt
Ryan Cox
Tom Johnston
Ryan Jeal