Coffee pod recycling with Podback
Coffee pod recycling with Podback

Use our free collection service to recycle your coffee pods. We've partnered with Podback to offer this simple service.
Order your free rolls of bags, book your collection and then leave at least one out for our team to collect.
Order your bags
It's easy to get involved. The first thing you need to do is order your bags:
Sign up and order your free recycling bags on the Podback website. You will be asked to confirm whether you have plastic or aluminium pods.
Podback will send you two rolls of bags and an instruction leaflet within 7 - 10 working days. Each roll has 13 bags on it.
Once you have your bags, you can book a collection.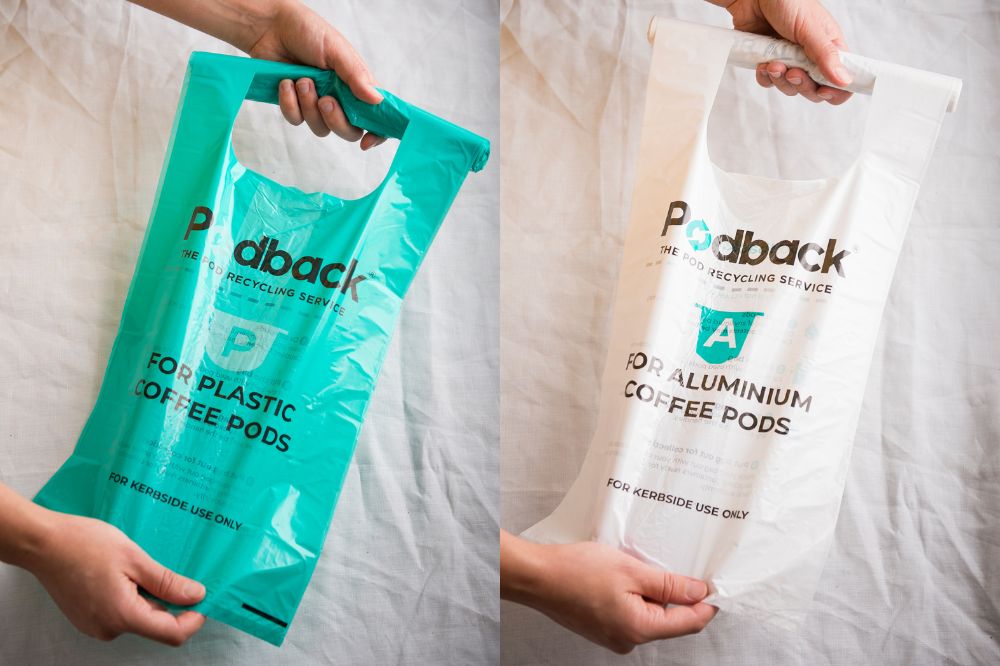 Book your collection
When at least one of your bags is full, click the button below to book a collection.
You will be asked to:
confirm your name and address
confirm how many bags you've got
choose a collection date and time
Leave your bag out on your collection day and our team will come and collect it from outside your property.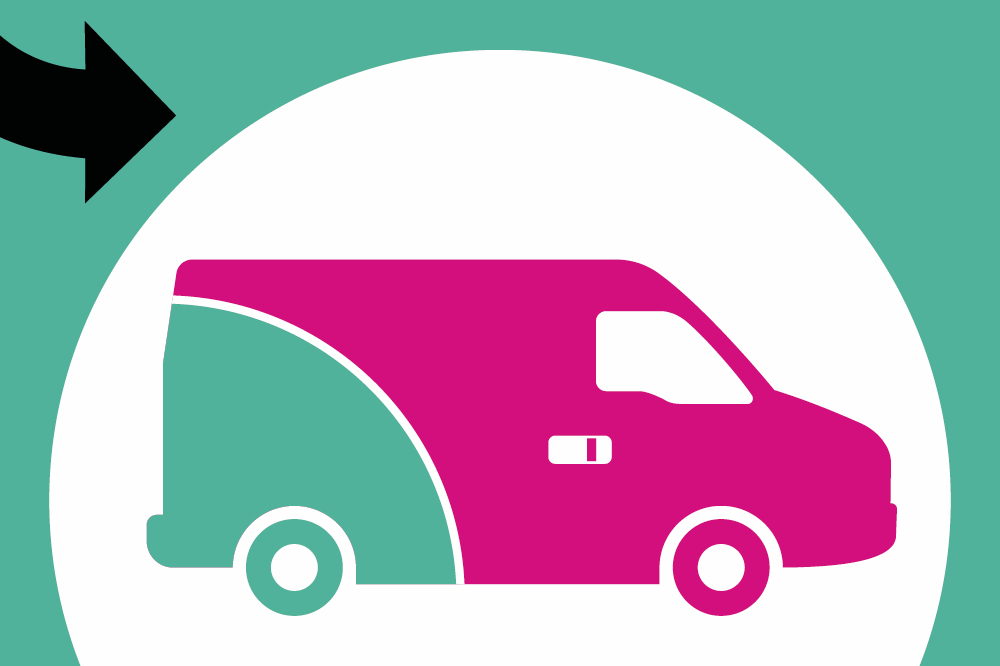 Pods we can collect
The following aluminium and plastic pods can be collected with the Podback scheme:
Nespresso
NESCAFÉ Dolce Gusto
Tassimo
ALCAFE (Aldi)
Allpress Espresso
Artisan Coffee Co
Café Palmieri by Jomad Coffee
Colonna Coffee
Cru Kafe
Difference Coffee Co
L'OR
Neighbourhood Coffee Roasters
Pret a Manger
Roastworks Coffee
Starbucks by NESCAFÉ Dolce Gusto
Starbucks by Nespresso
This includes coffee, hot chocolate and tea pods.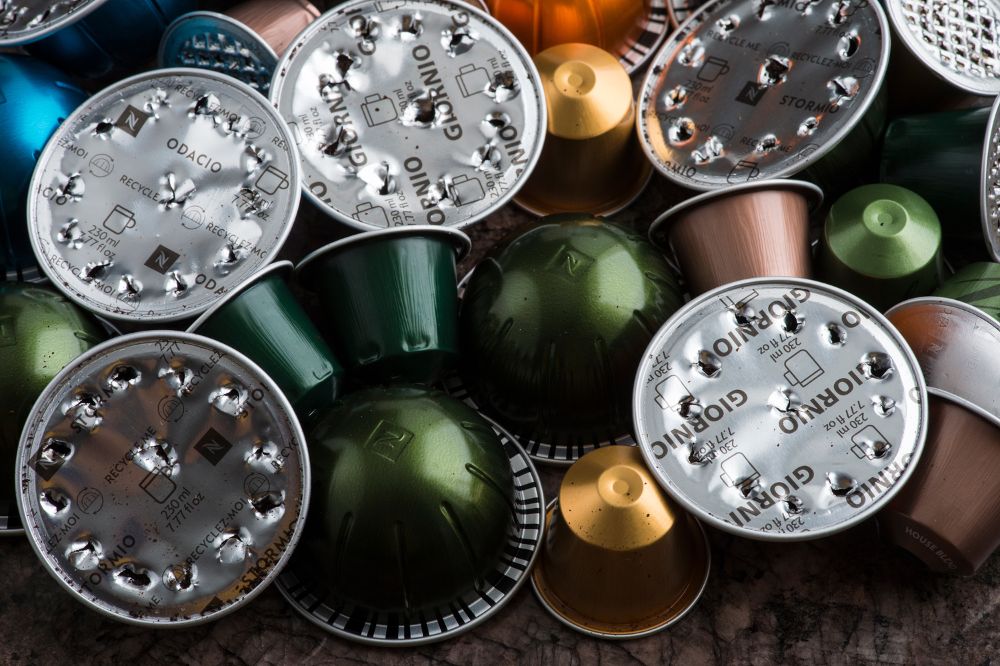 When you sign up on the Podback website you'll be asked what pods you use. This is so you get the correct bag – white bags for aluminium pods, green bags for plastic pods. Aluminium and plastic pods are sent to different recycling facilities, so it is important that they are collected separately.
What happens to the pods once collected?
The coffee pods you recycle with Podback are taken to specialist aluminium and plastics reprocessing plants in the UK. The coffee grounds are removed, and the plastic and aluminium are then transformed into new products, including beverage cans, car components or plastic garden furniture and building products. The coffee grounds are used to create soil improver and renewable energy (biogas). Find out more by watching Podback's video
Currently, there are 16 brands involved. Podback is keen to expand the programme so there is a single system for pod lovers to use across the UK. Podback is in active discussions about membership with more brands and retailers, so that every part of the coffee pod sector is involved in the programme.
The brands Podback works with represent over three quarters of the UK market. If your brand is not currently a member, why not contact them and suggest they get involved?
No, the different types of pods must be kept separate so they can be sent to the correct reprocessing facility. There are two different bags, white for aluminium pods and green for plastic pods.
If you use both aluminium and plastic pods, you should request both types of bags when you sign up for the service on the Podback website
These pods tend to hold more liquid. When you sign up for the Podback service you'll be asked which brand of pods you use so the correct recycling bags can be sent to you.
NESCAFÉ Dolce Gusto users will also be sent a drainage caddy. The caddies enable excess liquid to drain more easily and help users to store pods between collections. Full instructions are provided with the caddy.
Simply transfer the pods to the Podback kerbside recycling bag when they are ready for collection.
If your caddy breaks, please contact Podback directly and they will arrange to send you a replacement caddy.
Please put your bags outside your property before 6am on your booked collection day.
We can collect as many full bags as you have. When you book a collection we will ask you to confirm how many bags you have.
Please visit the Podback website, where you can create an account and re-order more free bags when needed.
The number of pods will depend on the brand of pods you use. Follow the instructions on the bag and fill it to the dotted line, and please make sure you've drained any liquid.
No. To take part in the Podback kerbside recycling service you must use the recycling bags provided for free by Podback. The Podback bags help Horsham's recycling crews to easily identify the bags. It also helps them to be sorted for reprocessing more easily.
Yes, you can still recycle your coffee pods – sign up and order kerbside bags from the Podback website. Once your bags are full, please book a collection online and leave your Podback bag in an obvious place within your bin store or shared bin area on your allocated collection day.
If your Podback bag collection has not been collected on your allocated day, please contact us by either emailing yoursay@horsham.gov.uk or call on 01403 733144 and we will look into this for you.
Yes, you can still recycle your coffee pods. If you have a specific area that is easier for you to leave the bags, this can be specified on the booking form and we will collect from there.
The recycling process takes place in the UK, so your pod doesn't have to travel far before it's transformed into something new. Aluminium pods are reprocessed at Tandom Metallurgical Group Ltd. in Congleton, near Stoke-on-Trent. Plastic pods are reprocessed by Bright Green Plastics in West Yorkshire.
The recycling bags supplied by Podback are made of recycled material and are fully recyclable. They are baled by the reprocessor and sent to a facility in East Yorkshire which specialises in recycling flexible plastics, such as food wrappers and films. The facility produces plastic pellets which are used in a wide range of manufacturing industries.
The carbon footprint of the service is very important to us. We are working with Podback and partners to make sure the service is as efficient as possible.
Please contact Podback and they will make sure your details are removed from the Podback register and let you know what to do with any spare bags or the drainage caddy.