Epilepsy sensor
Our epilepsy sensor is suitable for tonic clonic type seizures and monitors your vital signs, sound and movement while in bed to detect a seizure. It can be linked with a pager, which will immediately alert a nominated person as soon as it detects a seizure; or alternatively, it can be linked to the lifeline unit, which will alert our highly trained staff.
Or call us on 01403 215 230
How much does it cost?
The Epilepsy Sensor is available to rent for £28 per month. Payment is made by direct debit.
Products you may also be interested in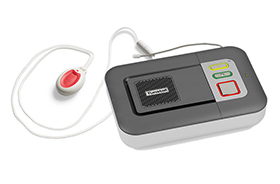 Lifeline unit and pendant
The Lifeline Unit is a small red button that is connected to your home phone line. Pressing the button puts you through to our 24/7 helpline and an experienced operator who will be able to offer assistance.